Rivet Group
The 28 languages of success.
An ad agency client of ours was tasked with launching a worldwide strategic marketing campaign for a global software company. A major launch that entailed packaging and delivering new product materials to targeted markets in the United States, Europe, the Middle East and Asia, and in 28 different languages. Working alongside the agency's project management and production teams, we developed the structural design for the outer container of an enticing package that housed and presented several marketing elements.
We printed and assembled the outer box, and printed, finished and bound the materials for the inside. But one big obstacle remained. The client had discussed the idea of producing multiple product booklets in various languages, but the cost had become prohibitive. Our solution was quick and simple, and well within budget. Using customized USB flash drives, we uploaded the necessary product data in all 28 languages, and delivered complete, ready to-ship packages in just three days. As a result, we came through on time for our client, the agency came through for theirs, and new software customers on three continents got new software information in a language they could truly understand.
Scroll down to see additional samples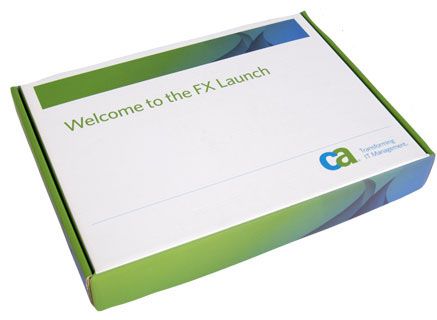 Single-sheet program,

folder with printed

material, 3 steppedpage

booklets, and

flash drive contained

within box.




The nearly empty box,

with flash drive in rear

well, and main well for

booklets.




Underside of interior,

showing well construction.




Two of the stepped-page

booklets.






Folder with printed

materials.