Red Distribution
A race to the finish. Everybody wins.
An independent record label distributor came to us with a fun and colorful project, and very little time to do it. They wanted to produce a magazine-style promotion for an upcoming summer tour, complete with a foil-stamped cover, a CD insert, one full page of kiss-cut stickers, another page of temporary tattoos, plus a fold-out poster and several baseball-style collector's cards. All cut, bound, assembled and shrink-wrapped with two stickers applied front and back. And all ready to go in 14 days.
To get it done, we started with our binder to coordinate what needed to be done to accommodate the project's unusual page sizes, and different-weighted sheets of stickers and tattoos. Next, we worked hands-on with our die cutter to ensure that the client's request for pockets on the cover could be precisely specified for holding and presenting the CD and collector's cards — and work in tandem with the foil stamping and stickers. It was a true team effort that finished nicely for everyone. The client got a top-quality, one-of-a kind promotion piece, we delivered on time and shipped out of state with no added overnight freight costs, and thousands of summer concert-goers each went home with a must-have and memorable keepsake.
Scroll down to see additional samples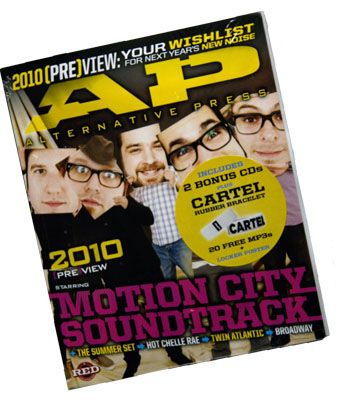 Front and back covers of flip

book layout.

Center spread has wristband

affixed to page.

Both inside covers have pocket for included CD.

Interior page folds out to mini-poster.